They say that once you get into an IIT, your life will all be set. I say, get in there and your life will get miserable. Yes, you read it right. Before joining IIT Gandhinagar, all I wanted was a Job. But now I want a job which is of my liking, which inclines with my interests, where I can make a difference and which will enable me to learn new skills and the list goes on. You can see what IITGN did to me. At the beginning of my final year, I got a job offer from a public company. I rejected it simply because it did not match all of my requirements. After pursuing for job at some more companies, I got an offer from a financial firm and this was something which met my demands (And to be honest, I am an Engineering degree holder & have 1/∞ knowledge base of Finance). So I decided to go with it. But as is the case with Shahid Afridi, there was a catch. It was end of June 2015 and I had 3 months time before I had to indulge myself into finance.
In the summer of 2015, 4 of my close friends who also happened to be my batch mates (bitten by the same I-Need-More keeda), decided to start their own venture in the field of virtual reality. They named it "4Dea". After learning about my 3 month sabbatical, they called me in. Preet, one of the co-founder of 4Dea asked me to help them out in Marketing and Business development. Actually, I have written few lines about marketing in my resume, which makes people believe that I know something about marketing (Only if they knew the truth!). On 7th of July 2015, I joined 4Dea as a Marketing consultant. 4Dea is currently incubated in IIT Gandhinagar Incubation Centre. My first couple of days went by in understanding what people at 4Dea are doing and what are their goals. (Also answering other people what I am doing in college even after graduation).
It was the second week of July and we were working on a software which creates virtual tour once panoramas are plugged into it. At the same time, we were also getting frequent orders for IT solutions (Dhyey will kill me after using this word) and virtual tour creation. After few rounds of discussion with the founding team, I started working on marketing strategy. But the big question I had in my mind was, Market – but for what? The service model was good but not scalable. The software we were building was scalable but was not the need of the hour. Deep down, everybody knew that, but we were just pushing it hard because the team was certainly not after some quick money, what they were aiming for was building a great product in the field of virtual reality.
By the time I had spent almost 3 weeks with the team, I understood few things – First, the tech team could literally make anything from scratch. Second, in pursuit of doing great work, everyone was ready to discuss and brainstorm for hours and last, they were here for some serious business. As the inquiries for service solutions were pouring, Eepsit (co-founder) a guy with great people skills was after Institutions, Interior Designers and anyone who wanted to showcase their properties. As I was morally obliged to do some marketing work, I started working on web analytics for the 4Dea website. Within couple of days the web analytics was all set.
On one fine day, Preet turned into web developer and with Dhyey's help, he changed the face of 4Dea's website. Yes, this is the core strength of people from IITGN and I am glad that at 4Dea people have done nothing but amplified it to the next level. Another inspiring soul Mr. Rohit Patel who used to provide transport service to IITGN joined us as photographer and editor. His learning acumen is great and he is always ready to learn new things.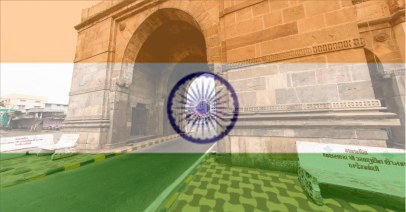 During one of our tea outings, I and Ankit (co-founder) were discussing about creating an online campaign. Ankit, who is responsible for design work (UI/UX) has a creative soul and is very artistic in his approach. During our discussion, an idea took birth – let's make something awesome this 15th August. Yes that was all of it and a lot of work was ahead. After that, we all sat and brainstormed, and had several rounds of discussion over it. Finally, we decided to make something which is centered on Swachh Bharat Abhiyan.(Click on the image to explore)
Excuse me, amidst of all of these I just forgot to mention that our convocation happened and members of team 4Dea received in total 6 Awards/Medals which includes President Gold Medal, Award for Outstanding Innovation to name a few.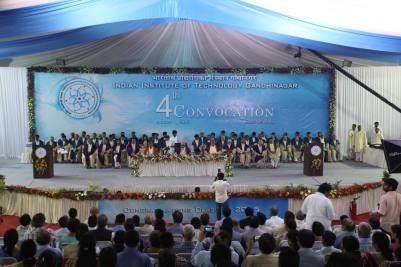 Then happened something really interesting. Dhyey was feeling under the weather (and this is not the interesting part) and so he took a day off. During our random discussion, we took our train of thoughts from Oyo rooms via AIR bnb and in no time we realized that we have a new business opportunity. Yes, at 4Dea breakthrough comes this way. Next step, we Skyped Dhyey and after that we all were at least agreeing on one thing- Kuch To Ho Sakta Hai Isme. Interestingly, all the two and half pivot which we have made so far occurred when one of the co-founder was outside the city.
It was the time for idea validation, as we learned it in our Entrepreneurship 101 – Go outside, there are no facts inside building. So we went out to talk to Hotel Managers and Real Estate builders, our key stakeholders. We had a mix experience when we went to speak to Hotels. Some of them agreed to allow us to shoot their property, but most of them were reluctant for various reasons. To tell you about our miseries, one hotel even asked us to pay them, because apparently they would have to clean the hotel before the shoot. But NO's are our favorite fuel – we went forward, decided to do a customer survey. We asked over 1400 folks of different age group and most of them (who answered) were backing our idea and solution.
Meanwhile Ankit got occupied in something, and that gave me a chance to get my hands dirty on some UI/UX work. I used to think that it would be easy and fun, but let me tell you- the amount of time I spent on deciding the size of the font and its color is more than the time I took to study for some of my courses in B.Tech. After putting a bit (relative to what Ankit would have put) of creativity in making an MVP for our application, we were all set to roar in front of our potential partners.
If I were to choose qualities of my fellow teammates someday, I would definitely go for "trust" over skills and experience. Because with time we can learn skills and gain experience, what matters most is the trust among each other. From what I have seen – the people at 4Dea have it in plenty.
It was 28 September and came the time to log on to Redbus website and book a ticket for Kota. I spent 3 months with 4Dea, in that I smelled entrepreneurship, tried my hands on everything that was possible, became the first resident of Duven- 409, talked to investors in half sleep and a hell lot of other things. And for those of you who know me, most of my time went in debating with people on random stuff.
Since I am asked to write my experience, I have finally written it. One thing from which I always ran away was writing and I think someone might have realized this at 4Dea (I know it's you Ankit), and that's why they have asked me to write and I have come up with this rookie piece.
By the way thanks for the souvenir. The coffee tastes better in it.